"Our Mission is to get 13 Stripes (The American Flag) on every wall in America while giving back 13% of every order to a non-profit organization or charity."
The Story of 13 Stripes Supply Co.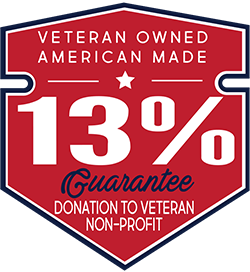 In February of 1998 my battle buddy (Richard Achen) and I joined the United States Army National Guard as a couple 17 year old farm boys looking for a way to pay for a secondary education and a way to serve our country.  We didn't know each other but quickly became best friends.  We were in the same section in the same unit in Aberdeen, SD, 2nd of the 147th Field Artillery.  We were both mechanics (him better than I) and we both had a deep love for the United States of America - our Patriotism is unwavering.  We both served in Operation Iraqi Freedom II for 14 months earning us Veteran Status.  I was honorably discharged although I still regret getting out, but Rich stayed in and still serves honorably today.  We both own our own businesses and have amazing wives and families.
The reason we joined together and started 13 Stripes Supply Co. was because of the absolute ridiculous treatment of the American Flag and the flat out disrepect for the Military, Law Enforcement, Fire & Rescue and First Responders.  We will not sit back and tolerate people with no respect.  We will not let their voice be louder than ours.  It is not in our DNA.  We have vowed to be positive and uplifting with the guidance of God in our venture but we will be serious, unwavering and direct in our vision for the company.  We are PATRIOTIC to the CORE.   
We will donate 13% of every sale back to a non-profit or charity organization.  Please click here to use our Project 13 program to raise money for your organization.  We will give you a unique Code for your organization, print out cards with the code and ship them to you at no cost as well as share an email with the code.  Any sales made using the code you will recieve 13% back to your organization. Click here to learn more.
Every attempt is made to ensure our products are 100% American Made from the raw materials to the production.  It is no secret that Amercian Made raw materials like t-shirts or wood for sign blanks cost more money but we hope that you will support us.  Hire American and Buy American!!!
If you have any designs or ideas you would like us to promote or any feedback please don't hesitate to contact us. Click here
We ask that you respectuflly thank Uniformed MIlitary, Veterans, Law Enforcement, Fire & Rescue, First Responders or any other person that puts their life on the line for our safety and freedom.  This is America - Home of the Free, Because of the Brave.
Justin Feickert & Rich Achen